*If no bowel movement, chart in the progress notes how long without one, assessment and what interventions were done.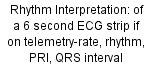 Student First Name            Last Name

Glasgow Coma Scale/Neurological System:



WARNING: Please print your Assessment data first.

The Restraint Charting page and the Risk Assessment pages open in a different browser, so you will not lose your Assessment data. Just remember to go back to the browser that has your Assessment data.